Here is a quick look at each of the 10 troupes and the productions they'll be bringing to the 2022 Liverpool International Theatre Festival Oct. 13-16. All shows are at the Astor Theatre on Main Street in Liverpool, Nova Scotia.
Tickets for individual shows are on sale now at the Astor Theatre box office (902-354-5250) or online via Ticketpro here. You can also save by choosing any five plays for $75.
Smile Group Canada, Miracle Show, Thursday, Oct. 13, 7:15 p.m.
This young, energetic group from Newmarket, Ont., will be kicking off our festival on Thursday night (Oct. 13) with a free show for all ages. It promises to be a fun, frenetic visual feast, filled with lights, dance and music.
Signagi Municipal Theatre, Someone is Calling Us, Friday, Oct. 14 2 p.m.
This troupe from Signagi, Georgia, peformed at LITF in 2016 and were an audience favourite, winning the People's Choice Award, Outstanding International Production and Outstanding Performance by a Supporting Actress.
This time, their show focuses on an older couple whose children went to war 30 years before and never returned. The play explores themes of loneliness and the need for connection.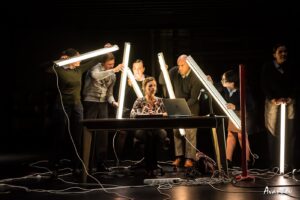 Lucky Leo, The Raise, Friday, 7 p.m.
This Belgian troupe presents a play on a universal theme – the anxiety and anticipation of asking your boss for a raise.
It revisits this looming encounter repeatedly and compellingly, each time from a different point of view.
This production won first prize in the annual Brussels national theatre festival in 2019.
Fantasia, Head to Head, Friday, 8:30
This troupe from Morocco brings a moving story of conjoined twins to our stage. Each aches to live their own life separate from their twin, but not if it means the other dies.
This theatre company won more than 60 awards and trained more than 180 students in theatre, some of whom have gone on to become professionals in theatre and cinema.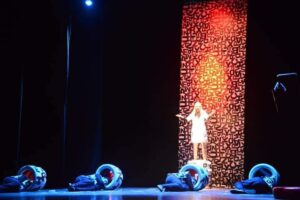 Assirem Troupe by Tagherma Cultural Association, CFAWA (Memory), Saturday, Oct. 15, 2 p.m.
The events of the play revolve around four people who have lost their memory. They are at a treatment
centre, which may be prolonging instead of treating their amnesia. The four patients eventually get their revenge, with some help from a nurse.
This company hails from Béjaïa, in northeastern Algeria on the Mediterranean coast. It has won several awards in its home country.
East Voice for Arts, The Zoo Story, Saturday, 7 p.m.
East Voice for Arts from Alexandria, Egypt, are back after a successful showing at LITF 2018, with the Edward Albee play, The Zoo Story.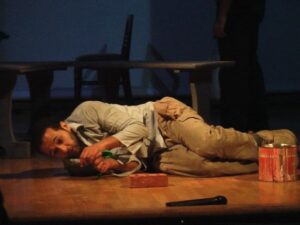 Featuring two characters who meet on a park bench in New York City's Central Park, one a wealthy publishing executive, the other an isolated and disheartened man, yearning for a connection with another person.
Little Norfolk Theatre, The Commedia Rapunzel, Saturday, 8:30 p.m.
This troupe from Norfolk, Virginia, brings their telling of the classic fairy tale Rapunzel to our festival.
This all-ages story of good versus evil will delight with its universal themes, clever stagecraft and panoply of classic characters.
Movimiento Teatro, Audicion para la Guillotina, Sunday, 2 p.m.
This award-winning troupe from Mexico City is back after a successful run at our 2018 festival with a meta-theatrical play within a play.
A theatre troupe is rehearsing for its next play, The Guillotine, while a behind-the-scenes love triangle plays out on stage. While the props are sparse, the action and intrigue will be engrossing, as this troupe displayed their incredible acting chops at our 2018 festival.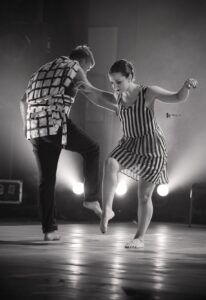 Guilsfield Amateur Dramatic Society, Music Lovers, Sunday, 3:30 p.m.
Speaking of awkward love, this one is set in a remote church hall in the early 1980s.
Mr. Pauley and Miss Eames discover a shared interest in the church's lute player, James Wilson, and we feel their growing interest in each other.
This Welsh troupe have been entertaining audiences for more than 70 years, regularly performing to full houses.
Avanzi di Scena Cultural Association, The Italian Movie Factory, Sunday, 7 p.m.
This audio-visual feast takes us through the history of great Italian cinema and Italian film directors, telling the story of Cinecitta Studios from Federico Fellini up to modern-day Oscar winners like Roberto Benigni.
This troupe from Civitavecchia, Italy, has performed widely throughout Italy and Norway.