Liverpool International Theatre Festival announces artistic directors for 2020 festival
An award-winning playwright and director are the co-artistic directors of the 2020 Liverpool International Theatre Festival.
Vic Mills and Neil Maidman, with Blackwood Little Theatre in Wales, will share the duties for the 15th biennial festival, which is set for the historic Astor Theatre in Liverpool, Nova Scotia, from Oct. 15-18, 2020.
Mills was honoured with the outstanding original script award at the 2018 festival, while Maidman was nominated as best director for their stirring production The Ruins of Talgarth. The play also won the people's choice award.
Mills and Maidman have more than 50 years' combined experience in international, professional and community productions, theatre education and administration.
"We are so proud to have been given the privilege of this role," Maidman says. "We love this event and this place. We'll help make this a feast of theatre."
Mills and Maidman have been to LITF many times, with Blackwood Little in 2008, 2012 and 2018. Maidman also directed a production by Liverpool's Winds of Change Dramatic Society at the 2010 festival.
"We are driven by the challenge of garnering top practitioners from around the world to the South Shore of Nova Scotia for this wonderful, wonderful festival," Mills says.
The Liverpool International Theatre Festival welcomes amateur theatre productions from around the world every two years. The 2018 festival was its most successful yet, featuring troupes from Egypt, Iran, Peru, Wales, Nepal, Mexico, Bangladesh and Liverpool, N.S. Attendance in 2018 also broke records.
Chairperson Jean Robinson-Dexter says LITF 2020 promises to bring more compelling international theatre to Liverpool that audiences will love.
"The LITF executive were very excited to receive an application from Neil and Vic and were impressed with their thoughtful vision for the 2020 festival. We're all excited to be working with them over the next year. Our team is looking forward to welcoming the world back to Liverpool."
Liverpool International Theatre Festival was founded in 1990 with the express purpose of organizing a competitive amateur theatre festival every two years and to draw visitors to Queens County outside the summer season. LITF is considered one of the top 10 amateur theatre festivals in the world.
Bio information for Vic and Neil below: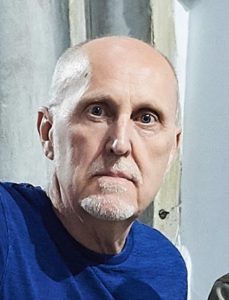 Vic Mills
Vic is a retired teacher, an actor, director, playwright and lecturer. He lectures part-time and runs a small professional theatre company called Contemporancient Theatre. He has a degree in English literature and theatre from the University of Wales, Aberystwyth. After a career from 1985-2015 as an English and drama teacher, he now teaches English part-time at an adult education college in Wales. He has taught thousands of young people acting and theatre skills over 30 years and his students have an outstanding record of examination success. He has directed more than 40 community productions and more than 20 school productions. Many of these have led to awards for direction. As an actor, he has performed in more than 60 plays and has won many local, national and international awards for acting. Vic has written five school plays, three full-length community plays, twelve one-act community plays and one full-length professional play. Many of these have resulted in awards for writing, direction and acting. He has also worked extensively as a performance examiner in England and Wales, visiting almost 100 schools to examine students performing in acting, design, lighting, sound and directing.
Neil Maidman
Neil graduated in 1991 with a postgraduate diploma in management studies from the University of South Wales. He pursued a career in management with a national UK retailer – working across many locations and roles. Alongside this, his passion for community theatre was being cultivated by being involved in a local, small theatre group. He joined Blackwood Little Theatre in 1998, playing the role of a young lieutenant, opposite Vic Mills. His association with this theatre and his friendship with Vic Mills has endured ever since. During his time with Blackwood, he has directed and acted in more than 40 plays, from farce to Shakespeare and Arthur Miller. Vic and Neil have sought to produce plays that have a high interest for the community and especially school children. They have jointly produced a number of plays of this type with children coming from across South Wales to see them. Additionally, after attending a performance, they have facilitated workshops with schools. In 2005, Vic and Neil entered their first festival, which they won. That put them on a festival path that has seen their productions compete all over the UK and, of course, in Liverpool Nova Scotia. Neil's plays, many of which are original works by Vic Mills, reached the Wales Finals every year from 2005 until 2016. They won the Wales final in 2008 and again in 2012, and narrowly missed out winning the British Final title that same year. Neil has on four occasions at LITF: three times for Blackwood (2008, 2012 and 2018) and once for the Winds of Change (2010) with Last Tango in Liverpool. The latter experience is one of the most enjoyable weeks of my life in theatre. Neil has also been in the administration of community theatre on a local, regional and national level. In 2015, he set up a professional theatre company in South Wales. Performing original comedic works, it has built up a cult following and is about to embark on a tour, culminating in a performance in London's West End in February 2020.