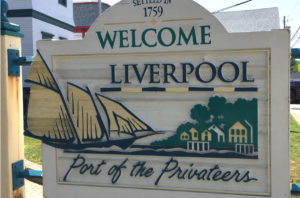 While you're in town for the festival, there are many things to see and do in between shows. And many businesses and attractions have extended their hours to accommodate festivalgoers.
Here is a small sampling of what you can see and do while you're here. Here are some other ideas too.
Downtown Liverpool
Historical Walking Tours – Sat., Oct. 20 at 11:30 a.m. and 1 p.m. Join Brittany Wentzell and Kathy Stitt and learn about the history of Liverpool on an entertaining and educational walk. Meet at the Astor Theatre/Town Hall Arts & Cultural Centre. $10/pp.
Privateer Farmers Market – Sat., Oct. 20, 9 am – 1 p.m., on the Liverpool waterfront, beside the Visitor Information Centre
Hell Bay Brewery Tastings – Check out Liverpool's own craft brewery. Sample their award-winning beers, only $5 for 3 samples.
Sipuke'l Gallery – Acadia First Nation's gallery of indigenous art and artifacts, at the Town Hall Arts & Cultural Centre, will be open during LITF.
Fort Point Lighthouse – 21 Fort Lane, Oct. 20 and 21, 10 a.m. – 5 p.m. Climb to the top and toot the foghorn.
Outside downtown Liverpool
SEA'spired at White Point Beach Resort — An outdoor sculpture installation, featuring 35 pieces by 19 Nova Scotia artists, placed throughout White Point's sprawling property.
https://www.instagram.com/p/BjPODBmnEQH/?taken-by=whitepointbeachresort
Beaches! — We are blessed with many silver-sand beaches in this area of the South Shore. From the smaller, lesser-known spots in West Berlin, Ragged Harbour and Eagle Head to the larger Beach Meadows Beach, and very popular Carters Beach. It's definitely worth your time to venture out to one of these or the other beaches in our area to soak in some salt-air therapy. Before you go, you should take a light lunch with you from one of our amazing local restaurants and make a picnic out of it — Lane's Privateer Inn in Liverpool, The Port Grocer in Port Medway, the Riverbank General Store and Cafe in Mill Village, Memories Cafe and Eatery in Liverpool, Oscar's in Liverpool, A-1 Pizza or Liverpool Pizzeria, Dixie Lee Family Restaurant in Liverpool, White Point Beach Resort or the Quarterdeck Beachside Villas and Grill.
https://www.instagram.com/p/BldkuzonbqF/?tagged=beachmeadows