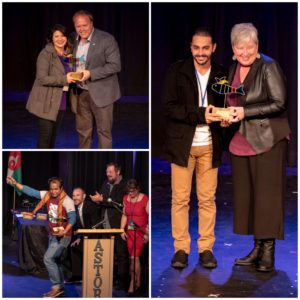 Thank you to everybody for making our 14th festival such a success!
Hundreds of people saw some amazing theatre over four days at the Astor Theatre. The nine troupes from Canada, Bangladesh, Mexico, Peru, Iran, Wales, Nepal and Egypt gave us compelling, thought-provoking and just plain fun performances.
We were honoured to have Lieut.-Gov. Arthur LeBlanc and his wife Patsy attend our closing and award ceremonies on Sunday night, along with South Shore-St. Margarets MP Bernadette Jordan.
Richard Finch, our workshop leader, oversaw a very fun performance by students from around Queens County, which had the audience on their feet and participating.
Chairperson Jean Robinson-Dexter presented the Harlequin Award to longtime LITF volunteer Cathy Raddall, for her many years of service with the festival.
Adjudicator Annette Procunier announced our award winners, who were lucky enough to go home with our beautiful stained-glass Jester Fish awards crafted by Queens County artist Sarah Webber.
Here is a list of the main award winners, announced Sunday night:
Outstanding international production – The Seven Days, East-Voice Group for Arts, Egypt
Other plays considered: Oliver's Bench, Liverpool; The Ruins of Talgarth, Wales
Outstanding director – Eslam Awad ElNagdy, The Seven Days, East-Voice Group for Arts, Egypt
Other plays considered: Greg Tutty, Oliver's Bench, Liverpool, NS, Canada; Neil Maidman, The Ruins of Talgarth, Wales
Outstanding male actor – Vic Mills, The Ruins of Talgarth, Blackwood Little Theatre, Wales
Other performances considered: Al Steele, Oliver's Bench, Canada;

Sawdesh Ranjan das Gupta, The Miser, Bangladesh
Outstanding female actor – Peta Maidman, The Ruins of Talgarth, Blackwood Little Theatre, Wales
Other performances considered: Shiva Makinian, The Seven Days, Iran; Annette Burke, Oliver's Bench, Canada
Outstanding supporting actor – Azizur Rahman Suzan, Kanjosh (The Miser), Loko Natyadal, National Centre of IATA/AITA, Bangladesh
Other performances considered: Luis Edgardo Aguilar Cuellor, Moronitas (Debris in our Hearts), Mexico; Chaklader Mustafa al Mashad, The Miser, Bangladesh
Outstanding supporting actress – Amaranta Getino, AmandoNOs, En Movimiento, Mexico
Other performances considered: Emma Hickey, The Ruins of Talgarth, Wales; Teresa Clarke, Oliver's Bench, Canada
Best original script – Vic Mills, The Ruins of Talgarth, Blackwood Little Theatre, Wales
Other plays considered: Greg Tutty, Oliver's Bench, Canada; Moronitas (Debris in our Hearts), Ricardo Castro Mendoza, Mexico
Outstanding visual presentation – Kanjosh (The Miser), Loko Natyadal, National Centre of IATA/AITA, Bangladesh
Other plays considered: The White Butterfly, IATA Nepal, Nepal; Moronitas, Compania de Teatro Itinerante, Mexico
People's choice award – The Ruins of Talgarth, Blackwood Little Theatre, Wales
Special adjudicator awards
Outstanding ensemble production – Oliver's Bench, Winds of Change Dramatic Society, Liverpool, N.S., Canada
Outstanding ensemble production – The Seven Days, East-Voice Group for Arts, Egypt
Outstanding musical score — Shyam Nepali, The White Butterfly, IATA Nepal